Clouded Judgement 10.16.20
Every week I'll provide updates on the latest trends in SaaS valuations, earnings announcements, and highlight any significant news. Follow along to stay up to date!
Highlight of the Week - Zoomtopia
Zoom has been the hottest SaaS company this year, and over the last 2 days they hosted their annual user conference where they announced a number of new features / functionalities including:
OnZoom: An online events platform and marketplace. Users can create, host, monetize (and discover) events like fitness classes, concerts, music lessons, etc all on the Zoom Meetings platform. Host up to 1k attendees, list / sell tickets, share and promote public events all through the OnZoom platform

Zaaps: These are apps you can use within Zoom to help improve productivity and create more engaging experiences. Initially 25 launch partners are included (Atlassian, Asana, Slack, Coursera and others). Now you can quickly navigate to apps within the Zoom interface to streamline permissions, grant document accessibility, and collaborate on screen.

UCaaS Platform Updates: Increased functionality around Zoom meetings including (but not limited to): immersive screens, new reactions / animations, recording highlights, enhanced whiteboarding features, E911 features for Zoom Phone, Team SMS for Zoom Phone, breakout rooms for webinars.

Expanded Zoom SDK offering: A more customizable SDK that allows developers to bring Zoom's high-quality video, audio and instant chat into their own app

End-to-End Encryption (E2EE): Typically Zoom's cloud generates encryption keys and distributes them to meeting participants using Zoom apps as they join. With Zoom's E2EE, the meeting's host generates encryption keys and uses public key cryptography to distribute these keys to the other meeting participants. Zoom's servers become oblivious relays and never see the encryption keys required to decrypt the meeting contents
Top 10 EV / NTM Revenue Multiples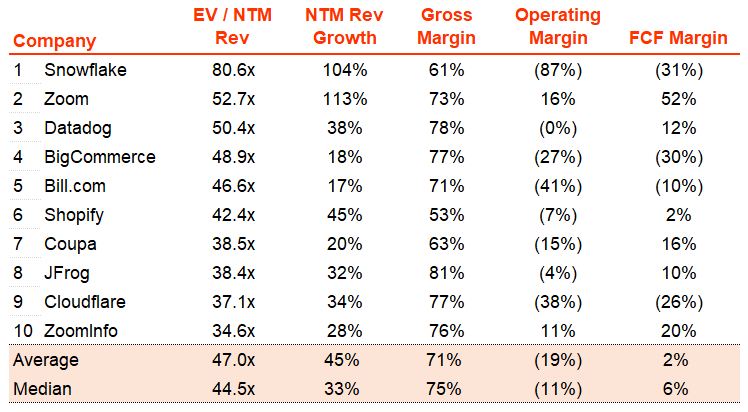 Top 10 Weekly Share Price Movement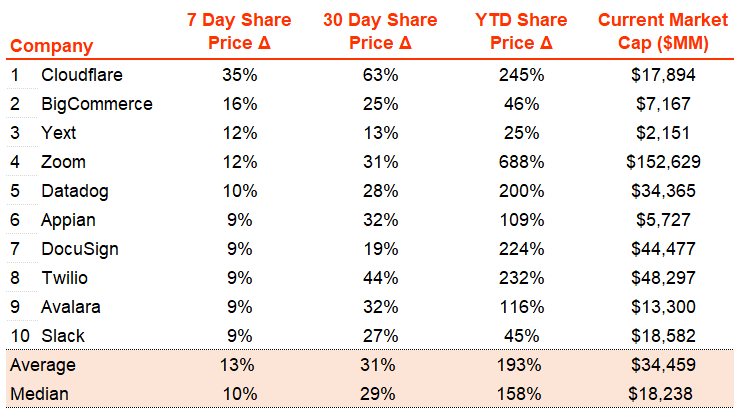 Update on Multiples
SaaS businesses are valued on a multiple of their revenue - in most cases the projected revenue for the next 12 months. Multiples shown below are calculated by taking the Enterprise Value (market cap + debt - cash) / NTM revenue. In the buckets below I consider high growth >30% projected NTM growth, mid growth 15%-30% and low growth <15%
Overall Stats:
Overall Median: 16.6x

Top 5 Median: 50.4x

3 Month Trailing Average: 14.4x

1 Year Trailing Average: 11.5x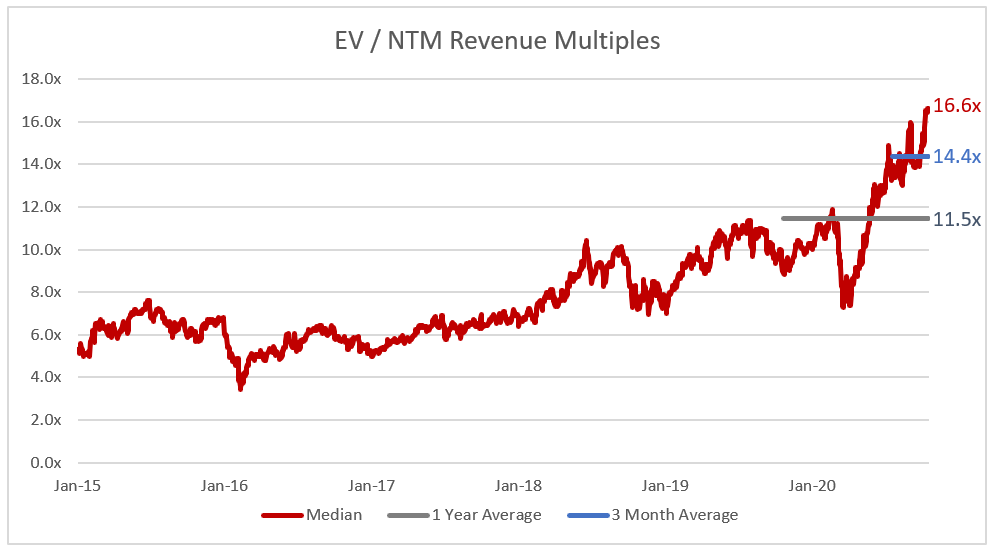 Bucketed by Growth:
High Growth Median: 35.7x

Mid Growth Median: 18.1x

Low Growth Median: 9.6x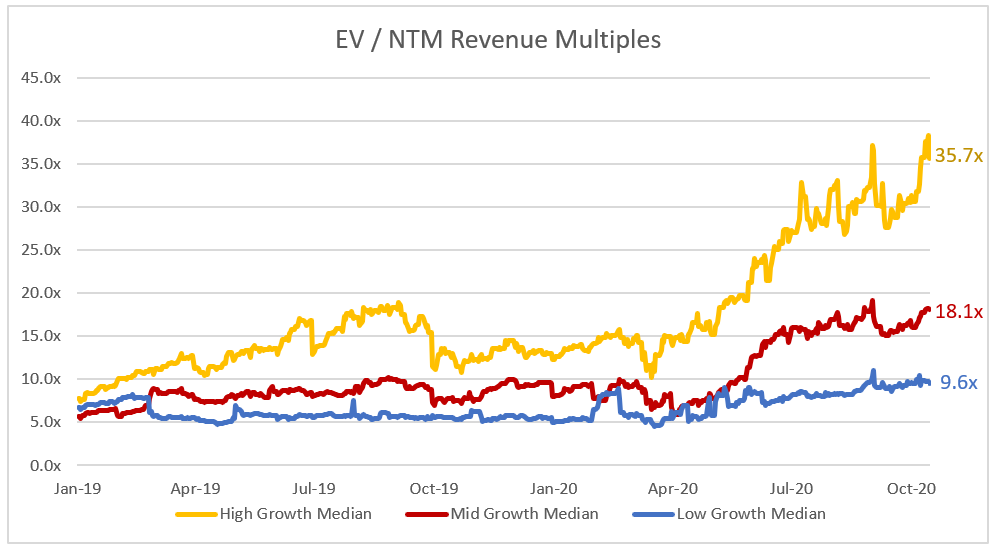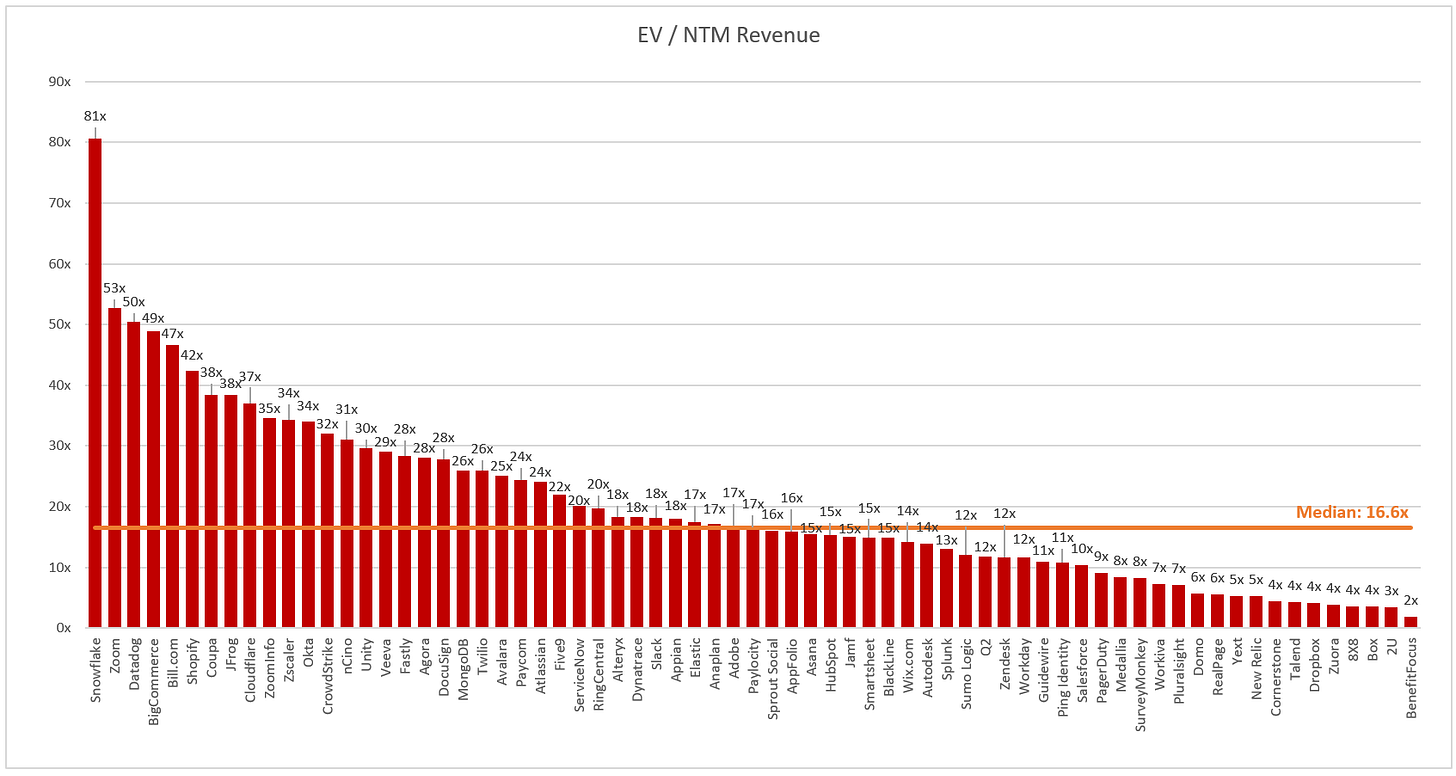 Operating Metrics
Median NTM growth rate: 19%

Median LTM growth rate: 31%

Median Gross Margin: 73%

Median Operating Margin (16%)

Median FCF Margin: 4%

Median Net Retention: 117%

Median CAC Payback: 29 months

Median S&M % Revenue: 43%

Median R&D % Revenue: 25%

Median G&A % Revenue: 17%
News
Comps Output
Rule of 40 shows LTM growth rate + LTM FCF Margin. FCF calculated as Cash Flow from Operations - Capital Expenditures
GM Adjusted Payback is calculated as: (Previous Q S&M) / (Net New ARR in Q x Gross Margin) x 12 . It shows the number of months it takes for a SaaS business to payback their fully burdened CAC on a gross profit basis. Most public companies don't report net new ARR, so I'm taking an implied ARR metric (quarterly subscription revenue x 4). Net new ARR is simply the ARR of the current quarter, minus the ARR of the previous quarter. Companies that do not disclose subscription rev have been left out of the analysis and are listed as NA.