Discover more from Clouded Judgement
Weekly data driven analysis of SaaS companies
Over 58,000 subscribers
Clouded Judgement 10.30.20
Every week I'll provide updates on the latest trends in SaaS valuations, earnings announcements, and highlight any significant news. Follow along to stay up to date!
Highlight of the Week - Start of Earnings Season!
We're one week into Q3 earnings season, and so far I've been incredibly impressed. Twilio, Five9, Blackline, Dynatrace and GCP all accelerated revenue growth. Shopify, ServiceNow, Azure, AWS all roughly maintained very impressive growth rates at massive scale. A little softness from Fastly (TikTok customer concentration and they went away), Atlassian and 8x8, but overall I'm quite impressed. The AWS / Azure / Google Cloud results continue to highlight how rosy the outlook is for cloud. Lots of attention goes to the hypergrowth earlier stage public companies, but Amazon, Google and Microsoft routinely are some of the biggest winners. Here's how each company to report this week preformed:

Top 10 EV / NTM Revenue Multiples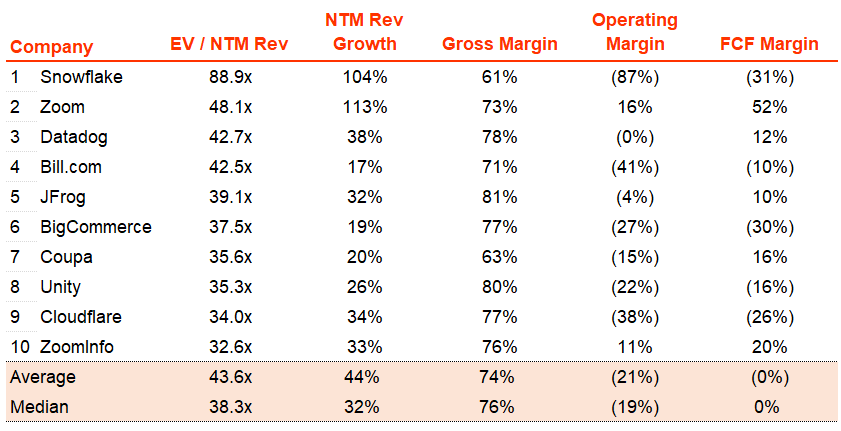 Top 10 Weekly Share Price Movement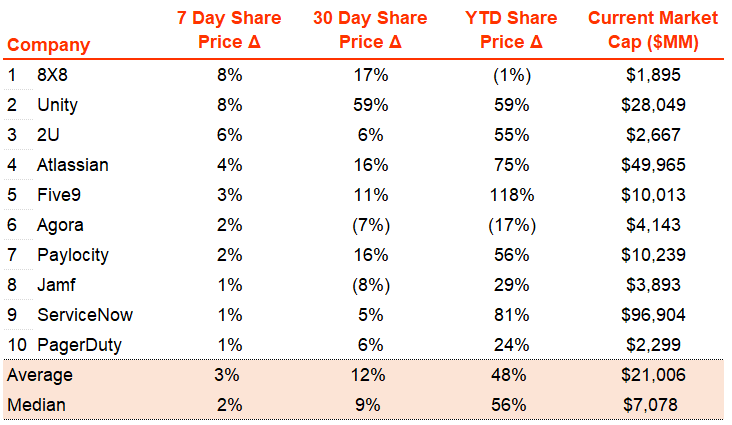 Update on Multiples
SaaS businesses are valued on a multiple of their revenue - in most cases the projected revenue for the next 12 months. Multiples shown below are calculated by taking the Enterprise Value (market cap + debt - cash) / NTM revenue. In the buckets below I consider high growth >30% projected NTM growth, mid growth 15%-30% and low growth <15%
Overall Stats:
Overall Median: 15x

Top 5 Median: 43x

3 Month Trailing Average: 15x

1 Year Trailing Average: 12x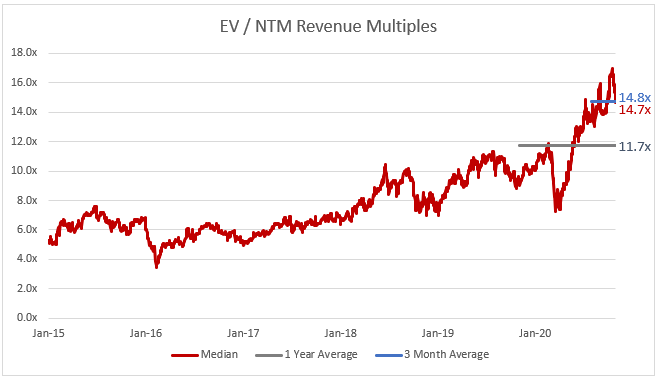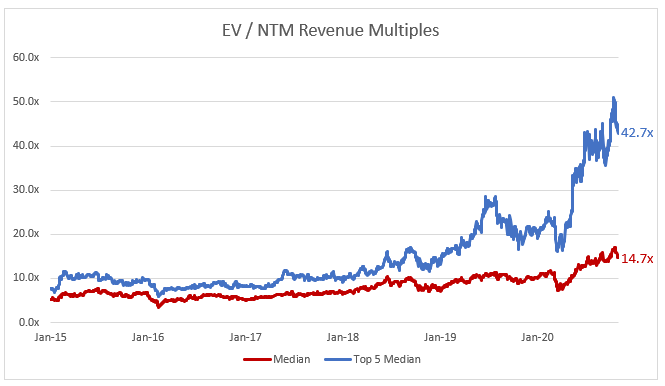 Bucketed by Growth: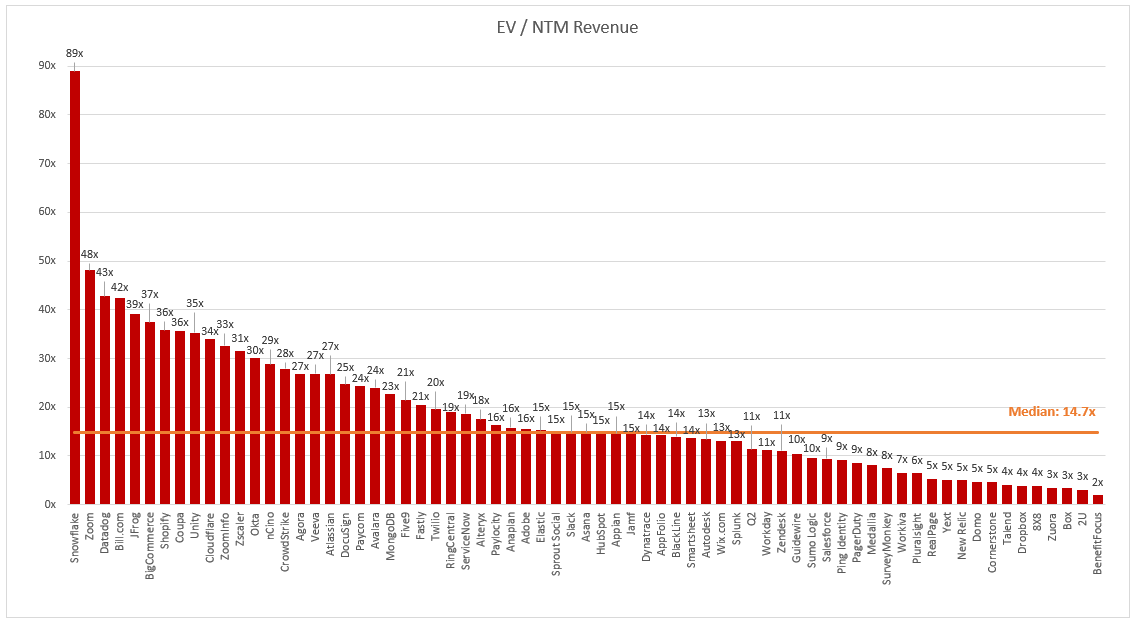 Operating Metrics
Median NTM growth rate: 20%

Median LTM growth rate: 31%

Median Gross Margin: 73%

Median Operating Margin (15%)

Median FCF Margin: 4%

Median Net Retention: 117%

Median CAC Payback: 26 months

Median S&M % Revenue: 43%

Median R&D % Revenue: 25%

Median G&A % Revenue: 17%
News
Shopify announced a partnership with Tik Tok. With the TikTok channel for Shopify, merchants can take advantage of TikTok's global scale to reach new and highly engaged audiences. Building a successful brand means Shopify merchants need to be wherever their customers are spending time, and today that means growing their social commerce presence. The TikTok channel allows merchants to create and connect their TikTok For Business account and deploy In-Feed shoppable video ads directly within Shopify
Comps Output
Rule of 40 shows LTM growth rate + LTM FCF Margin. FCF calculated as Cash Flow from Operations - Capital Expenditures
GM Adjusted Payback is calculated as: (Previous Q S&M) / (Net New ARR in Q x Gross Margin) x 12 . It shows the number of months it takes for a SaaS business to payback their fully burdened CAC on a gross profit basis. Most public companies don't report net new ARR, so I'm taking an implied ARR metric (quarterly subscription revenue x 4). Net new ARR is simply the ARR of the current quarter, minus the ARR of the previous quarter. Companies that do not disclose subscription rev have been left out of the analysis and are listed as NA.