Discover more from Clouded Judgement
Weekly data driven analysis of SaaS companies
Over 55,000 subscribers
Thanks for subscribing and welcome to the first issue of Clouded Judgement! What a time to be following SaaS businesses. Revenue multiples are at all time highs, the Nasdaq is at all time highs, and I can't even remember the last time the VIX was below 20. In an otherwise turbulent equity capital markets, SaaS stocks have been a safe-haven. And I'm trying to make sense of it all! Going forward I'll provide weekly updates on the latest trends in SaaS valuations, earnings announcements, and highlight any noteworthy news. Follow along to stay up to date! Special thanks to my good friend Connor Barnett who helped me come up with the name for the newsletter.
Highlight of the Week - JP Morgan CIO Survey
This week JP Morgan published the results of a CIO survey spanning >100 CIOs with a cumulative enterprise IT budget of $88B. There were a couple key takeaways:
IT budgets are shrinking this year by an average of ~5%

However, more spend is being shifted to the cloud. Currently ~20% of IT budgets are being spent on public cloud, but this is expected to grow to 44% in just 5 years! Digital Transformations are being pulled in

[My take] The cream of the crop SaaS / Cloud businesses (Zoom, Okta, Crowdstrike, Datadog, Twilio, Bill.com etc) will capture the lion share of the increased cloud spend
Top 10 EV / NTM Revenue Multiples
Top 10 Weekly Share Price Gains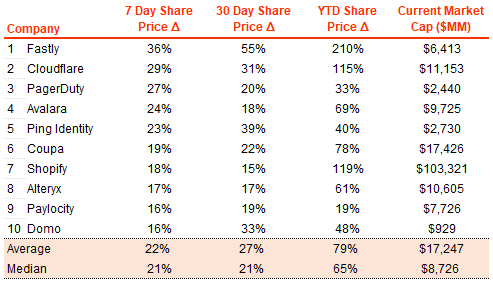 Update on Multiples
SaaS businesses are valued on a multiple of their revenue - in most cases the projected revenue for the next 12 months. Multiples shown below are calculated by taking the Enterprise Value (market cap + debt - cash) / NTM revenue. In the buckets below I consider high growth >30% projected NTM growth, mid growth 15%-30% and low growth <15%. We're currently at all-time highs!
Overall Stats:
Overall Median: 13.0x

Top 5 Median: 34.1x

3 Month Trailing Average: 9.8x

1 Year Trailing Average: 10.0x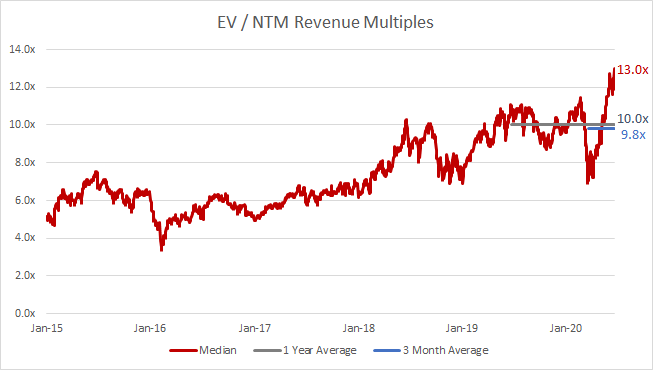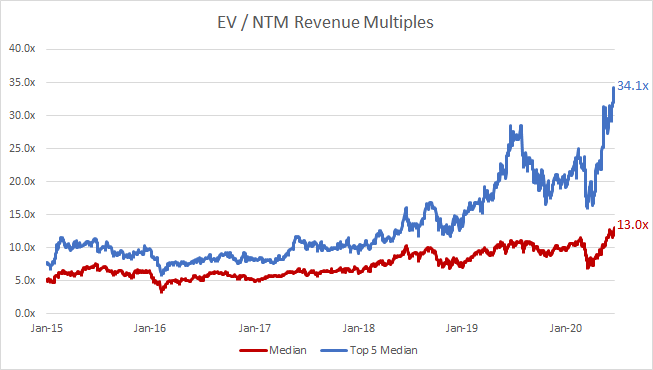 Bucketed by Growth:
High Growth Median: 25.6x

Mid Growth Median: 14.7x

Low Growth Median: 7.5x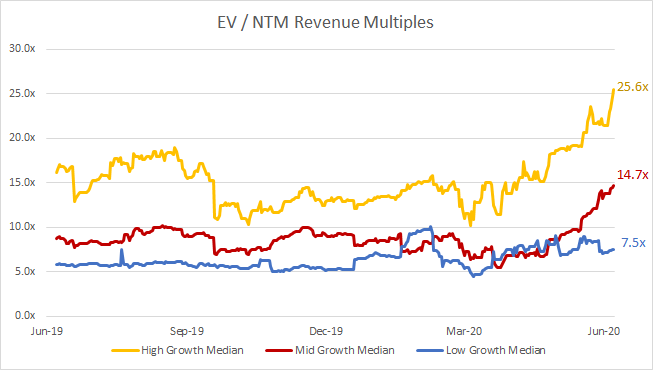 Operating Metrics
Median NTM growth rate: 19%

Median Gross Margin: 73%

Median Operating Margin: (15%)

Median Net Retention: 117%

Median CAC Payback: 29 months
News
Shopify announced a new partnership with Walmart that enables Shopify merchants to sell their products on Walmart.com. This is the first time Walmart has partnered with a commerce platform empowering SMBs to sell through its online marketplace. 
Comps Output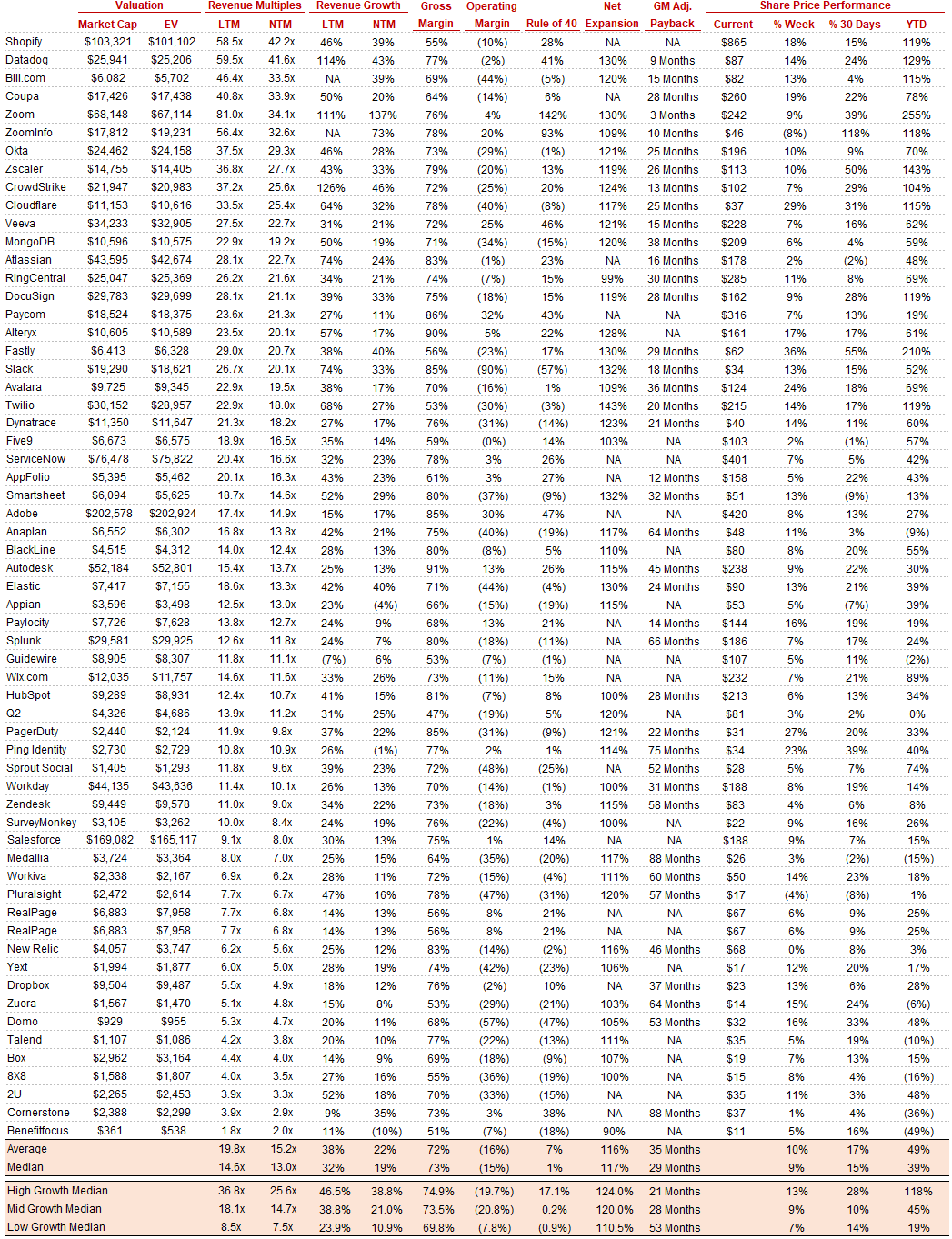 Market data as of 6/18/20