Clouded Judgement 9.25.20
Every week I'll provide updates on the latest trends in SaaS valuations, earnings announcements, and highlight any significant news. Follow along to stay up to date!
Highlight of the Week - Zuora Subscription Report
Zuora released their annual subscription report (link to download here). Here were the takeaways:
Subscriber growth bounced back after initial onset of COVID-19: After a setback in Q1 2020, where net subscriber growth slowed to 3.2%, growth rates increased to 12% in Q2, surpassing rates in the second half of 2019

Subscription businesses used discounts to retain customers: Subscribers receiving discounts grew by 10% in the first 2 quarters of 2020, while the average discount was 18% higher compared to 2019.

Evergreen renewals helped subscriptions grow: In Q2 2020, subscription companies utilized evergreen renewal models more than 9X more than monthly renewal models.

While growth in revenue per account slowed for subscription businesses, it remained positive overall: Average Revenue per Account (ARPA) growth slowed from Q1 to Q2 2020 from 9% to 5%
Top 10 EV / NTM Revenue Multiples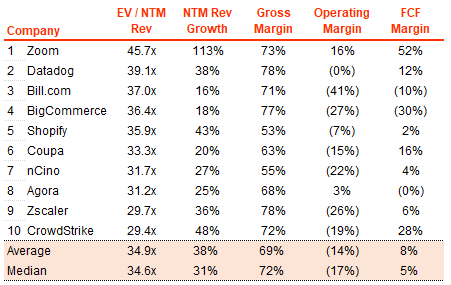 Top 10 Weekly Share Price Movement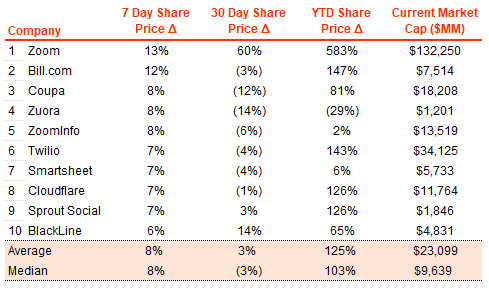 Update on Multiples
SaaS businesses are valued on a multiple of their revenue - in most cases the projected revenue for the next 12 months. Multiples shown below are calculated by taking the Enterprise Value (market cap + debt - cash) / NTM revenue. In the buckets below I consider high growth >30% projected NTM growth, mid growth 15%-30% and low growth <15%
Overall Stats:
Overall Median: 13.8x

Top 5 Median: 37.0x

3 Month Trailing Average: 13.9x

1 Year Trailing Average: 11.1x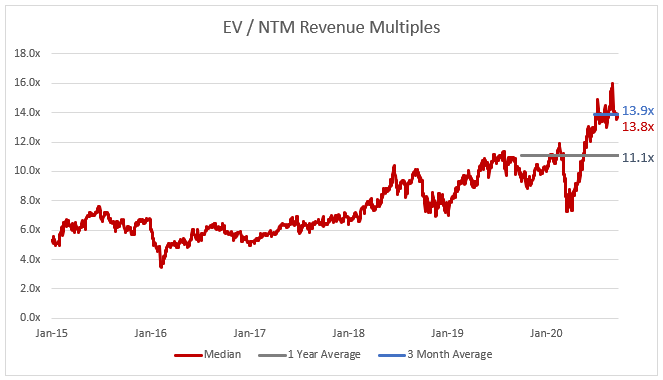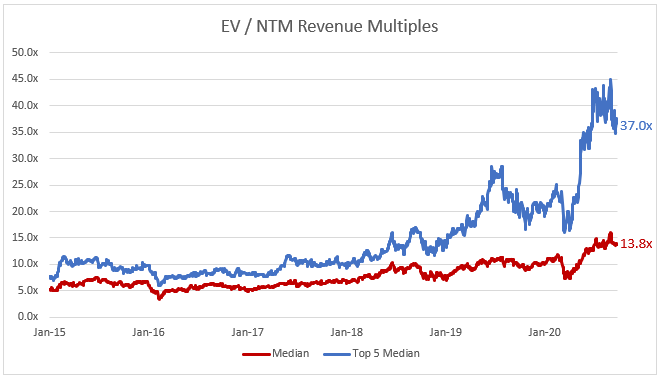 Bucketed by Growth:
High Growth Median: 29.5x

Mid Growth Median: 15.8x

Low Growth Median: 8.3x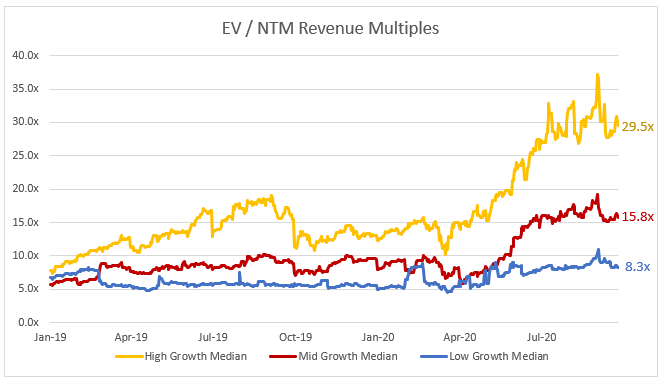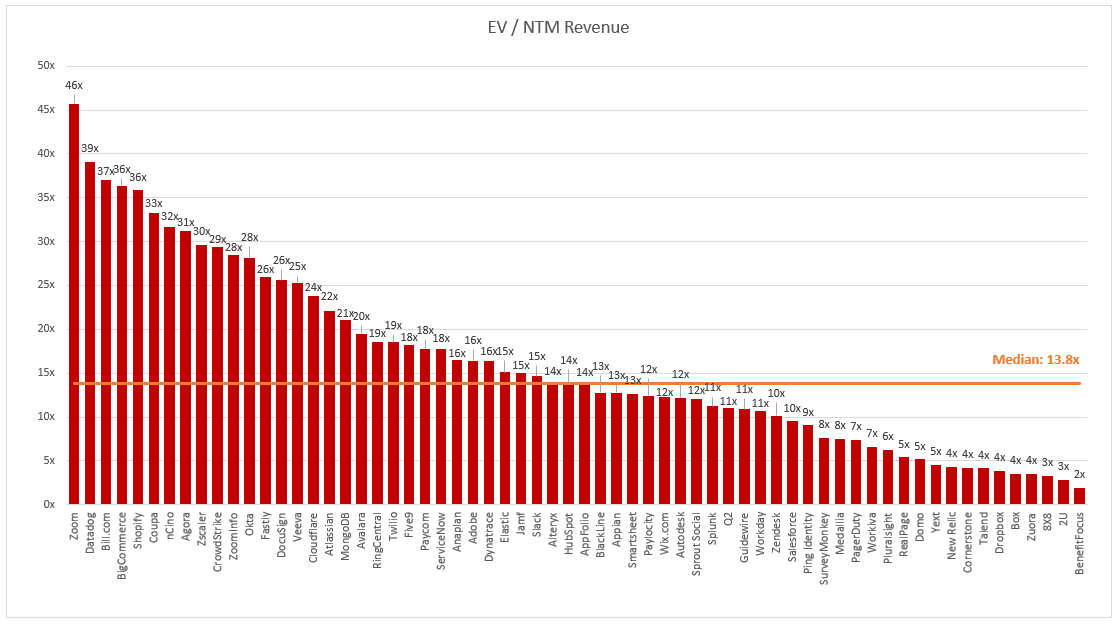 Operating Metrics
Median NTM growth rate: 19%

Median LTM growth rate: 31%

Median Gross Margin: 73%

Median Operating Margin (15%)

Median FCF Margin: 4%

Median Net Retention: 116%

Median CAC Payback: 32 months
News
Microsoft announced the launch of Azure Communication Services, a new set of features in its cloud that enable developers to add voice and video calling, chat and text messages to their apps, as well as old-school telephony. This new feature set is a clear move against Twilio

Workday released its global Chief Financial Officer (CFO) Indicator Survey, "Finance Digital Transformation," which reveals a direct link between finance digital transformation and agile business practices, better decision-making, and more efficient reporting, planning, and financial operations—all of which organizations will need to thrive in the new COVID-19 normal.
Comps Output
Rule of 40 shows LTM growth rate + LTM FCF Margin. FCF calculated as Cash Flow from Operations - Capital Expenditures